Love beer? Our friends over at America on Tap are putting on the Syracuse Beer Fest. The date is November 7th, so be sure to mark your calendar and buy a ticket. If you've never heard of it here's the scoop.
Sampling goes from 6pm-9pm, with over 100+ unique beers from some of the best micro breweries across the country. Tickets are only $35 when the code ATA2014 is used. You will also receive a free souvenir sampling glass and be able to jam to the live tunes. A variety of delicious foods will also be available for purchase, and many different vendors will be set up on the scene. Some of the breweries that will be in attendance include Breckenridge, Lake Placid, Troeg's, Smuttynose, Left Hand, Rooster Fish, the list goes on! To see the complete list of breweries check out the site http://syracusebeerfest.com/breweries/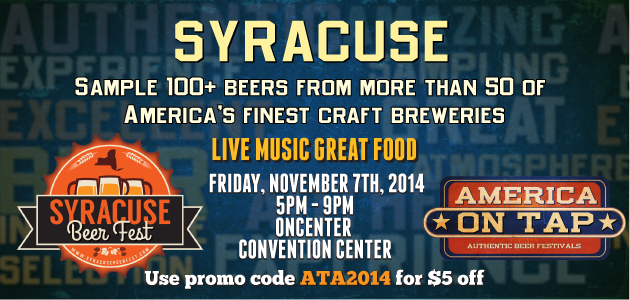 I know you love craft beer, food that makes your taste buds water, and jammin' live music, so why would you miss this? We will be running a giveaway in the very near future so stay tuned for the details! Otherwise be sure to buy your ticket in advance and come join myself as well as some other ATA reps and hundreds of other people for lots of fun.
Oh and did I mention the amount of samples is endless?! See you there…